As the world's ULTIMATE OUTBOARD MOTOR brand, Suzuki always remains focused on providing the ultimate marine experience.
CLEAN UP THE WORLD CAMPAIGN

Clean-Up the World Campaign is the root of Suzuki's awareness to environmental issues and the SUZUKI CLEAN OCEAN PROJECT.

Since 2010, Suzuki Motor Corporation has been voluntarily conducting the 'Clean-up the World Campaign' essentially a collection of organised clean-up activities in seas, rivers, lakes, and ponds where the outboard motors are used. This event is conducted annually to contribute to a healthier and cleaner marine environment.

Over 10,000 people & 44 distributors have participated in this global initiative so far.

Suzuki is committed to taking responsible actions against plastic waste problems by reviewing its own contributions to the environment and introducing new measures to reduce plastic usage and waste.
REDUCE PLASTIC PACKAGING

To reduce plastic waste, Suzuki has acted towards reducing the plastic packaging of Suzuki outboard motor products. Alternative eco-friendly packaging materials have been adopted to some products manufactured after June 2020.
Since September 2020, a large collection of Suzuki Marine Genuine Parts has been packaged with paper-based materials instead of plastic. An estimated 2.3 tons of plastic will be reduced every year when the entire range of marine genuine parts are replaced eco-friendly packaging materials.

Suzuki Motor Corporation strives to continually minimise the use of plastic packaging in both its current and future products.
COLLECTING MARINE MICRO-PLASTIC WASTE

Marine plastic waste has been a significant environmental issue for many years. More recently, secondary microplastics (small plastic fragments) have become of increasing concern.
To tackle these issues, Suzuki engineers developed the Micro-Plastic Collecting Device (MPC) which aims to collect micro-plastic waste by filtering the returning ocean water after it has been used for cooling the outboard motor.
This design has no negative impacts on engine performance in any way since only returning water that has already been used to cool the engine is used. There is also a secondary bypass hose that maintains water flow in the event the filter ever become clogged.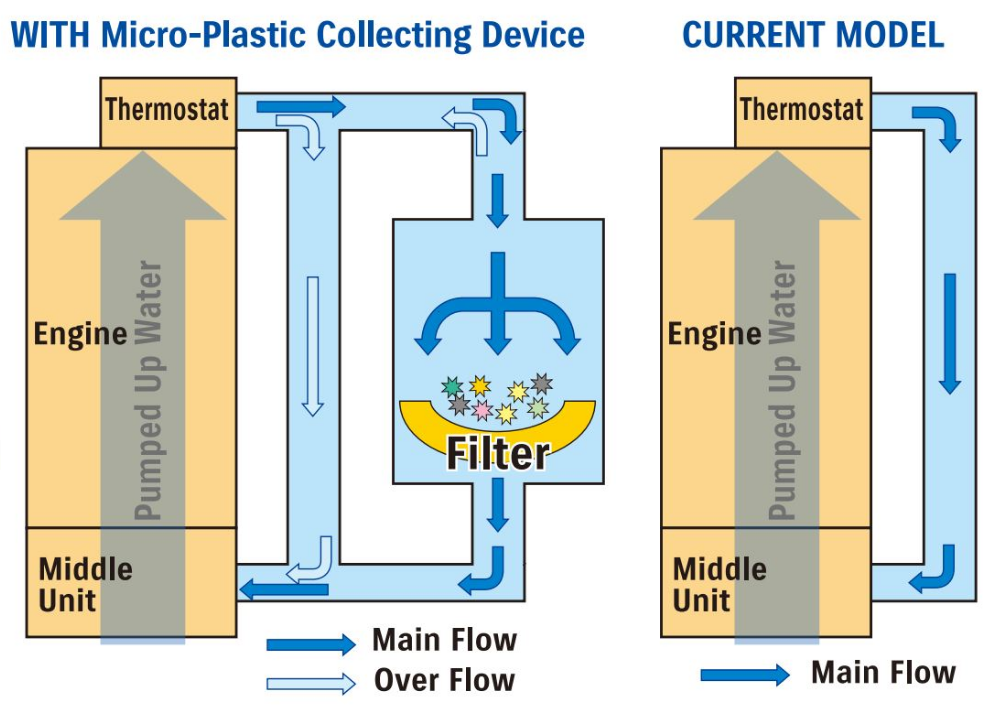 The device has been tested in over 15 different countries, including Australia. Upon analysis, all samples provided from around the glove showed evidence of micro-plastics. Materials collected include acrylic, cellophane, epoxy, nylon, PET, polypropylene, polyethylene, urethane, and vinyl ester.